Skye Walking
On the back of my trek through Spain i was keen to keep up the momentum. After being inspired by
Andrew Dempsters book Sky 360
I decided to circumnavigate Skye. Unlike, Andrew Dempster who took a month to work his way around the coastline, i wanted to walk around the island in a series of small walks.
The Romans called Skye 'The Winged Isle', a reference to the peninsulas that reach like crooked fingers into the waters of the sea. A more common name is the 'Misty Isle'.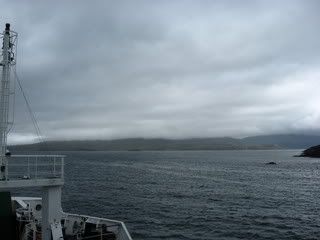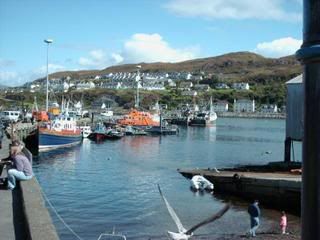 My first part of the trek started after catching the afternoon
Mallaig Ferry
to Armadale around mid afternoon. The trip took about an hour and was very bracing to say the least but beautiful views of Skye ahead. Armadale is at the end of the A851 on the Sleat peninsula of Skye, known as "The garden of Skye". Armadale is one of the gateways to Skye, as it has a car ferry that travels regularly from here to Mallaig on the Scottish mainland. From Armadale Pier look across to the mainland peninsula east of Glenshiel, to Glenelg, to Knoydart and south towards the busy Mallaig harbour. The far headland seen beyond the right hand edge of Armadale pier is Morar, with famous white sandy beaches.
Once ashore again i donned my backpack and walked to the tiny village of Ardvasar where i found the
Morar B&B
run by Chris and Maggie. A well appointed B&B on the shore with very comfortable rooms and a pleasant surprise with indoor swimming pool. It was an ideal stop off for my first night to rest up for the following days trek to Broadford. As this bit would entail a fair bit of tarmac bashing i decided that a Sunday would be the best time to complete this 16mile bit as the road would be quieter.

After a good cooked breakfast on the Sunday morning i set off about 9am. It was perfect walking weather and not a rain cloud in sight. Very sunny and warm and no midges. I followed the main A851 road from Broadford to Armadale which was being upgraded.

A little further along the A851 i past the Armadale Castle Gardens & Museum. The neo-Gothic Castle was built by the
MacDonalds
in 1815. Part of the castle has been restored to create a museum.
I approached Kilmore (pronounced kil-more), A' Chill-Mhor in Gaelic which means the big church. The first church was established in the 13th century. The modern Parish Church of Scotland was built in 1876.
Sleat (pronounced Slate) Church of Scotland
where i joined the service made me very welcome. After the service i joined the congregation for a cup of tea and biscuit before setting off again.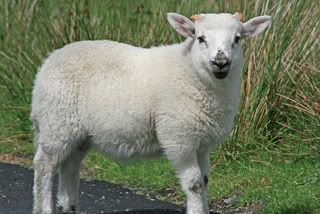 It was a while down the road when I saw her walking towards me. Looking like she was out for a Sunday jaunt, she smiled as she approached me and without any preamble asked me 'Are you in a hurry? Where are you headed to?'. I smiled and explained that i was walking to Broadford. She informed me that i was about 10 miles from Broadford. Again she turned to me without any preamble 'would you like tea and toast in the garden?'. I was pleasantly surprised and not being able to think of a good enough reason to say no I agreed. Una was a very interesting lady who was a native to Skye. We found that we had a common interest in Africa and she showed me her African artefacts and pictures of her father who worked in Somali in the 50's. It transpired that she was a wheeler dealer in that she bought and sold oddities. She seemed to have an uncanny intuition for knowing what folk are interested in, she showed me a leopard skin rug that she had sold to a gentlemen who happened to be a collector. I sat and listened to her charming tales and of her adventures in the US travelling on a Greyhound bus and discussed US politics as we sat and drank tea and eat cheese and biscuits in the garden. Three hours later and having exchanged addresses i bade her farewell. I left with a smile on my face and with the thoughts 'only on Skye'. It was late and i still had 10 miles to Broadford to cover, it would be a late arrival but so far my day had been different to what i had anticipated.
As i approached Isleornsay (Eilean Iarmain) which means dry island, a secluded little village of whitewashed cottages with a very pretty harbour that was once Skye's main fishing port. A very beautiful place in a small rocky bay with the mountains of the mainland on the horizon, the views out across the bay are wonderful, overlooking the tidal Isle of Ornsay, which sports a lighthouse built by Robert Louis Stevenson's father. Gavin Maxwell, of otter fame, lived for a while at the lighthouse. The view to Isle Ornsay lighthouse and the distant mountains around Loch Hourn and Knoydart with the beautiful Sound of Sleat as a backdrop.
It is also largely Gaelic-speaking, thanks mainly to the efforts of its landlord, Sir Iain Noble, who owns the hotel and his own local Gaelic whisky company.
The road now opens to heather-moorland. I pass the Black lochs so called because of the peaty water. The road goes over Drochaid Airidh na Suiridhe. It was getting late and i was getting tired, i had to make Broadford before dark, the going was starting to get hard as tiredness set. The road seemed endless and now without the different views of earlier in the day, the heather-moorlands in contrast to the greenery and sea views of earlier. After what seemed like an eternity i eventually arrived at 8.30pm in Broadford, tired, hungry and weary. This was the penalty for my socialising earlier in the day.


Three days after my return home i received a letter from Una updating me on her adventures and an invite to write to her neice who had a health centre in Kenya who 'could make good use of a good brain'! As i said 'only on Skye'!