Easter 2007
This weekend is the the Easter holiday weekend, yippeee. Good Friday is traditionally the day for planting your tatties and I'm no exception.
I'm planting Lady Christyl, my favourites and have proved to be a good cropper in the past and taste just like a new tattie should. I'm also for the first time planting Swift and a row of Vanessa so not sure how they will turn out. So this morning after dropping my cat off at the vet for a check up i was down at the beach collecting kelp. Plan is to pop in the bottom of the trenches and throw a bit of soil over the top and plant the tatties in this. The ground has previously been manured so this should set them off to a good start.
I'm now finding that i'm being forced out of my home by the numerous seedlings that i've got growing in all the bathrooms. Most folk are reputed to keep coal in their baths but i keep plants and seedlings! Even the dining room isn't sacrosanct. I really need to get my greenhouse up this year!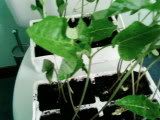 The runner beans are really romping along and i need to slow these down a bit, so i'm going to transfer to the cold frame. It's still too early to plant them outside as we've had a lot of mornings with frosts. What a difference a week makes.
The courgettes are also starting to produce their second leaves but seem ok at the mo. The Impatiens are growing away quite nicely and are looking sturdy plants already. Will need to start potting them on in another couple of weeks.
In the garden the Asparagus continues to put up spears, Purple Pacific only so far though. My garlic is going great guns now although the shallots are a bit slower. No sign yet of the beetroot or carrots that i had sown two weeks ago, but it may be the temperatures aren't quite right yet....also it's been a very dry April so far, the ground could do with a bit of rain.
I'm popping to the garden centre over the weekend too as i'm going to try and pick up some lavender for the veggie garden. Thought i would edge the currant beds with it. This would make a nice decorative edge and also attract insects and bees. Lavender also repels aphids. I thought i would also see if i could get some more Box (Buxus Sempervirens) as i could edge the beds with it where i've got the kerbstones. The plan is (through time) to train the box so that it obscures this and again provides a decorative edge to the beds. Having got the fruit and veg garden whipped into shape (just about) i'm now looking at aesthetics. I want it to be pretty as well as functional. I've always wanted a knot garden and was looking at the utility garden to see if this was possible....i haven't drawn it out to scale but there may be room for a more simple design.
The grass has grown this week again and needs cutting again but this is useful as i've acquired some paper shreddings from partner's mum and useful to mix with grass clipping to compost. I'm really into recycling now....it becomes addictive.
Happy Easter everyone!
Labels: box, Compost, Courgettes, easter, lavender, runner beans